Best Practices For Natural Gas Measurement
Field research and testing conducted by Southwest Research in San Antonio, Texas and the Pipeline Gas Compressor Research Council (PCRC) confirmed that pulsation reated by compressors, flow control valves, regulators and some piping configurations may create undesirable levels of Square Root Error (SRE) and/or resulting Gauge L ine Error (GLE). Pulsation at the orifice meter is a major source of lost and unaccounted for natural gas. These errors create either large economic gains or losses for the buyer and seller along a natural gas pipeline system.
Conclusions determined that Transmitters or Electronic Flow Measurement (EFM) devices should be:
Close coupled to the orifice taps (within 18 inches – "Rule of Thumb");
Use equal length, large orifice (0.375 inch I. D. or greater), constant diameter gauge lines;
Use Multi-Turn Valves to protect electronics from pressure spikes.
Minimise Gauge Line Error (GLE): Schneider DirectMount Systems (SDMS) are designed for a safe, efficient method of close coupling EFM's and transmitters to the orifice fitting, eliminating or reducing the effects of Gauge Line Error.
SDMS are Easy to Insta ll and available in both Vertical and Horizontal to Vertical Installations.
SDMS reduces installation cost – no need to manufacture and install tube runs, fittings, and expensive pipe stands;
Reduces potential leak points associated with NPT connections;
Provides a safe compact leak free measurement installation;
Internal porting promotes self draining of condensates and liquids to reduce freezing issues.
Stabilised Connector provides for more security
At the heart of the Schneider DirectMount Systems is the patent pending, Stabilised Connector. This may be manufactured from Carbon Steel, Stainless Austenitic Steel or Nickel-based Alloys depending on requirements.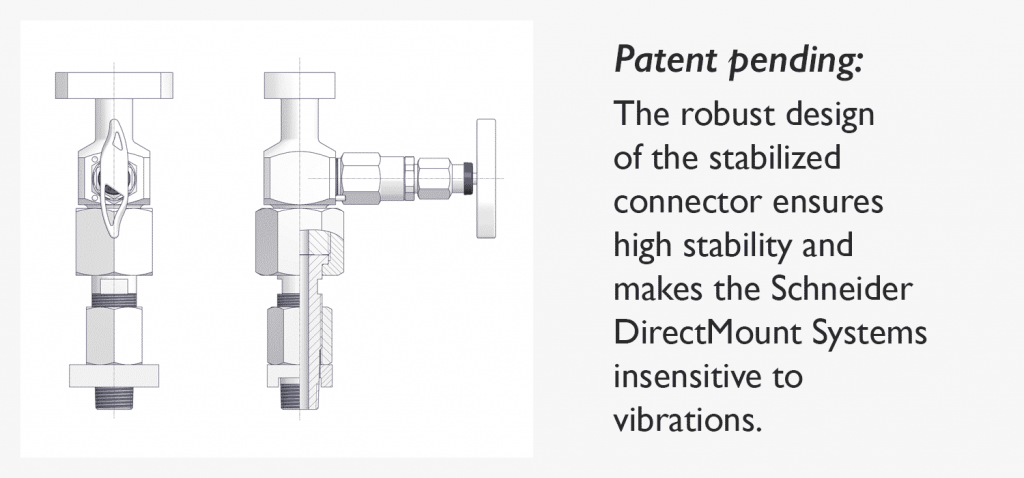 In order to be able to connect the manifold to the measuring orifice flange, a special adapter is necessary. This adapter is supported on the body of the measuring orifice flange which provides for more stability, explains Markus Häffner, Head of Design & Development on AS-Schneider: "Normally, the connector is only screwed into the orifice with a conical thread. The entire structure with the 5 valve manifold and transmitter or flow computer has, however, a high net weight. In addition, vibrations from the pipeline can affect this connection so that this thread is often damaged or destroyed."
With the AS-Schneider Stabilized Connector, this risk has been minimised. The system therefore is much more secure.
(Image source: © AS-Schneider)