How the right choice of valve technology supports an "Every Drop Counts" Operation
Gas prices are increasing, regulations expanding, and businesses must cater to environmental protection. These factors demand an "Every Drop Counts" approach for operating natural gas installations. These installations need to address two areas to support this approach:
More details on each section could be found in the report "Measurement Error and associated lost and unaccounted for" by Duane A. Harris.
As we can see, many root causes contribute to measurement errors. This article focuses on one in particular: potential pressure transmitter inaccuracies or failures caused by the chosen valve technology.
Valve technology impact on natural gas measurement
Today two types of valve technology are quite common on the instrumentation side. These technologies are quarter-turn ball valves and needle valves.
The graph below compares schematic flow curves. The red line depicts a Standard Port Ball Valve, and the blue line shows a Needle Valve. As seen in the lower left-hand corner of the graph, the Standard Port Ball Valve has a "Flow Jump" in its opening/closing phase. At about 5% of the opening, it has already reached 20% of its max flow. With a further 5%, it already reaches 30% of the max flow.
In comparison, the Needle Valve needs an opening of 20% to reach 20% of the max flow. This configuration offers a much higher grade of control.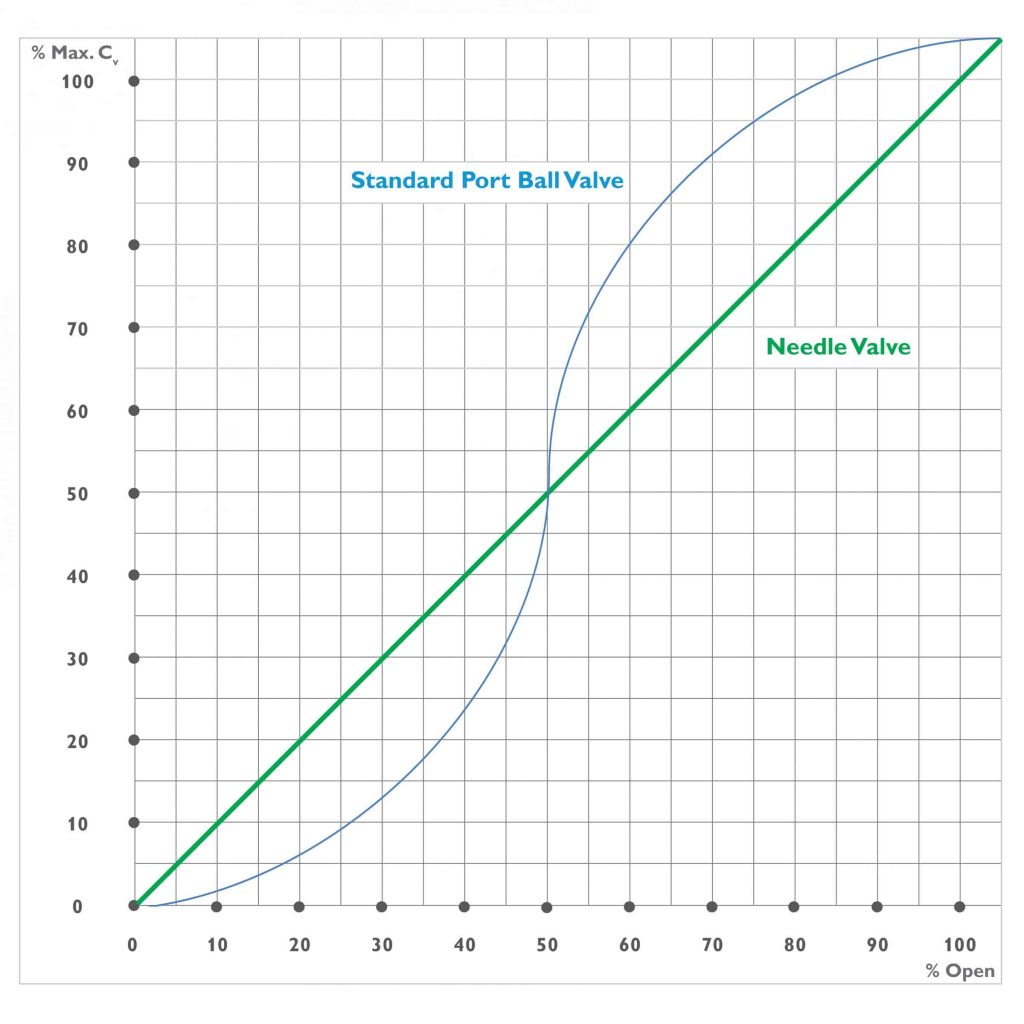 Operating behavior of needle valves and ball valves
There is a vast difference in the manual handling of needle valves and ball valves:
This quick opening and closing of a ball valve could thus cause immediate rise or fall of pressure.
The operator controls both pressure lines, but they are independent of each other. Thus, it can shock on the side of the measurement device with full line pressure. If that happens, it can damage the expensive electronic equipment.
The AS-Schneider Group has been a supplier of both valve technologies for many years. Thus, to be on the safe side, we recommend the use of a needle valve for natural gas measurement.